---
---
Photo Gallery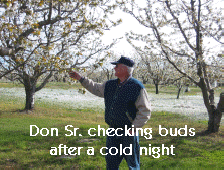 The Olmstead Family began farming four generations ago in the fertile Yakima Valley of Washington State. Fred and Alpha Olmstead moved to Grandview, Washington in 1918 and bought a cherry orchard and home north of town. One of their three sons, Donald, was just a year old. In March 1923, five year-old Betty Soot and her family settled into a family farmhouse on 16 acres of grapes and cherries just south of Grandview.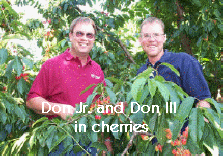 After spending their school years together, Donald Olmstead and Betty Soot married in 1938 and eventually settled on Betty's family farm, paving the way for the Olmstead Orchards of today. Many trees and vineyards have come and gone since then, but family has remained strong. Both Peter and Don Jr. joined their parents on the farm after college, leaving behind careers as a pilot and a landscape architect. Don Jr., his wife Barbara, and their young daughter moved into the family farm house in 1971, and son Donnie III was born in 1974. Upon Peter's return in 1975, father and sons were together again as Olmstead Orchards. Don Sr. retired in 1980, but only on paper! Today at 92 years old, he continues to regularly visit the orchards and check in on harvest. He and Betty live just over a mile away in their home with their horses and dogs.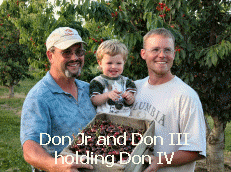 In 1990, Don Jr. and Peter split up the acreage. Don Jr. and his wife Barbara assumed Olmstead Orchards, which included 85 acres. After finishing college, their son Don III (Donnie) also returned to farm with the family in 1998. Donnie has now begun farming his own acreage, but he and Don Jr still collaborate daily striving to produce the finest sweet cherries in the world. Today, Don Jr and his few employes spend countless hours cultivating and nurturing over 100 acres of fruit. Cherries are the main crop with approximately 35 acres of Bings and 65 acres of Rainiers. The administration, bookkeeping, and much more are handled by Barbara. Don and Barbara's daughter Carrie returned to help with the family business in 2003. Carrie built the Website and helps with sales, marketing, and harvest. Olmstead Orchards is truly a family business that takes pride in what they do!
---
© 2003-2010 Olmstead Orchards, Inc. 360 Frazer Road Grandview, Washington 98930
Last updated Saturday June 04, 2011 Website problems: webmaster@olmsteadorchards.com
Site by CH Design