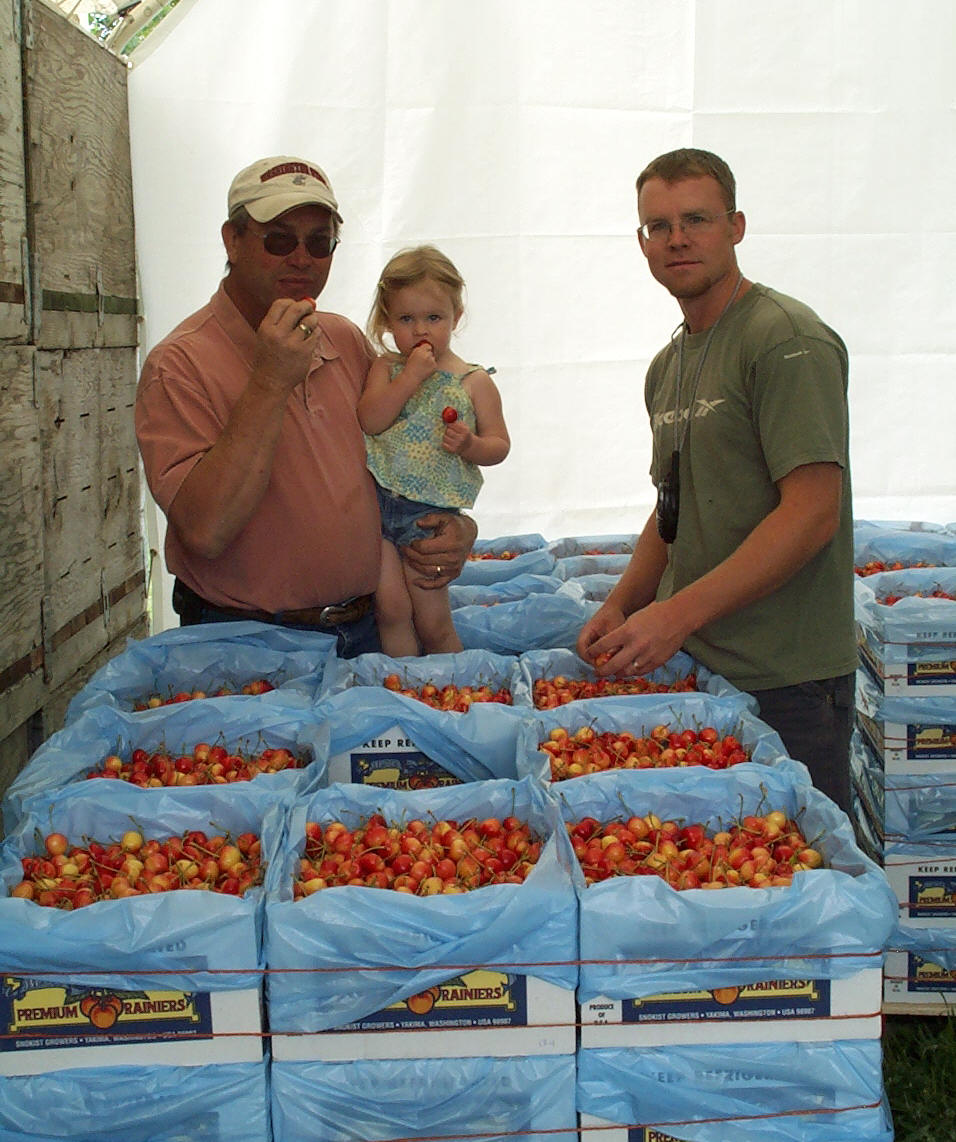 As a family business, we work hard to build positive lasting relationships with our customers and employees. Retaining these relationships year after year is possible because we deliver superior quality fruit to the consumer, provide excellent customer service, and treat our employees with the respect they deserve. We take care and pride in all we do. We would love to build a relationship with you!
CUSTOMER COMMENTS
---
As a pharmacist, I know that cherries can help arthritis, but eating them for their delicious flavor is by far the greatest benefit ! I have just finished enjoying a whole pound in one sitting. Keep it up guys !
- Jim in Georgia
---
Thank You for the delicious cherries. My husband took 2 boxes to work for the day/night shift clerical staff...as we were, they were ecstatic...the freshness, sweetness, deliciousness...priceless. Just wish cherry season was all year.
Toni - An aspiring lifetime customer
---
I am sure you get many notes complimenting the wonderful fruit you ship far and wide, but we had to add our thank yous! The Rainier cherries we recently ordered for my Dad were received just in time for Father's Day. As per your suggestion, the quicker shipping method got the cherries cross country to him in "fresh-off- the- tree" condition. He has always been incredibly difficult to please in terms of gifts, and at age 94, I didn't expect much change in that regard. But he was absolutely delighted with the fruit -- even picked up the phone and called long distance to thank us! One of the most thoughtful gifts, he said, and he was really enjoying them! So THANK YOU very much for your product and your care and good customer service. What a wonderful online shopping experience all around.
- Janet in Virginia
---
Thank you - they have arrived and are great. I want more!!!!
- Richard in Washington
---
I wanted to tell you that this is the second year we have ordered Rainier cherries from you, and once again they are the best cherries we have ever eaten! We live in Cincinnati, Ohio, and the cherries arrive to us in perfect condition. Not a bad one in the bunch! (and that is great because we ordered 10 lbs!) So, thank you again!
- Betsy in Ohio
---
Order received yesterday in good shape. Wonderfully good and fresh. Thank you.
- Yvonne
---
I have received your cherries and once again, I am not disappointed. They are GREAT!!
- Rebecca in Washington
---
I ordered your cherries a few days ago. I never ordered food on-line before. They were the most perfect things I've ever tasted or could have imagined. I had to get another 5 lbs.!!!! Thank you so much!
- Myra in New York City
---
Hi - I just had to tell you how happy I am with your incredibly delicious bing cherries! My five pound order arrived yesterday, in perfect condition, and as a cherry lover, I could not wait to try them. The big, dark red cherries are the sweetest, most delicious I have ever tasted. All the other cherries I had on hand, both organic and regular, pale by comparison. I am spoiled for life! Thank you for making these gems available to those of us on the other side of the USA. I'll definitely be ordering more, both this year and every year from now on.
-Marylin in New Jersey
---
Thank you so much. The hardest part of being over here is not being able to do nice things for my family, and you have made that possible. Thanks again.
- Lee in military in Afghanistan
---
Ordered your cherries last year and they were the best our family ever had. We all agreed that a reorder was a must this year.
- Rich in Wyoming
---
I have had someone send me your cherries and they are wonderful.
- Shawn in Iowa
---
I was sent a box of your cherries as a gift from a friend. They were beyond wonderful, I've never tasted cherries with such rich flavor and such color. They were black not a dark rich red, but black.
- Kristin